*Subject to Change without notice


San Diego Ice Arena Presents the 2022 Fun In The Sun Youth Hockey Tournament starting Thursday September 1st, 2022 (Local Teams only Thursday) – Monday, September 5th, 2022
Teams Coming so far: 
Goldrush, OC Hockey, Tampa Jr. Bulls, Jr. Ducks, Vegas Jr. Golden Knights, Denver East, LA Jr. Kings, Henderson Silver Knights, Jr. Gulls, Oilers, Spitfires, Jets, California Bears, San Diego Saints, Empire, Mariners, Golden State Elite, La Jolla Country Day, Cosmos & Poway Hawks. 
San Diego Ice Arena
11048 Ice Skate​ Place
San Diego, California 92126
The Rinks – Poway Ice
12455 Kerran Street
Poway, California
92064
Icetown Carlsbad
2283 Cosmo Court
Carlsbad, California 92011
Kroc Center Ice
6845 University Ave
San Diego, California 92115
UTC Ice
4545 La Jolla Village Dr.
San Diego, California 92122
Entry Fee
$1850 per te​am &
$1200
 for Mites 
Entry fee includes a guarantee of 4 games, a 1st place banner, and a great competition.
USA Hockey Sanction #22.23-CS-02
First games will start with local teams on Thursday and regular games will go through Monday.
Championship games will be played on Monday, September 5th, 2022.
Teams will play with a 3 minute warm up: 1st- 15 minute running period, 2nd and 3rd 15 minute stop period.
There will not be any overtime except during Playoffs & Championship Games.
All persons from the team (player, coach, manager) must show proof of 2022-2023 USA Hockey and a release of liability form prior to their 1st game (located below in additional info/forms)
USA Hockey Rosters and Jersey #'s should be submitted with entry form.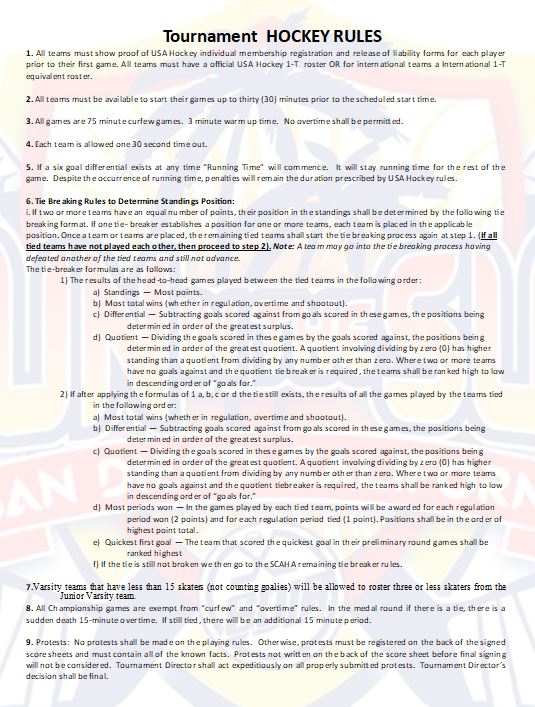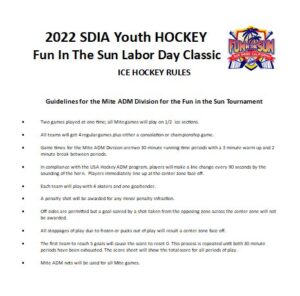 All Players, Coaches and Managers must sign before the 1st Game.
THING TO KNOW FOR THE FUN IN THE SUN TOURNEY
Here are things to get out to your teams .
1. Games are 3 ,15 minute periods , the first period is running time. Mite is 2 30 minute periods with 90 second buzzer
 2. My Café pizza guy will set up and make pizzas for a pizza party at San Diego ice Arena , Call Him ahead to place orders for pizzas . Must order in advance  . Jimmy 619-277-5120
 3. I am bringing in an Auto Detailer for whoever wants to get their car washed and detailed at the San Diego ice arena. Must call to Book Appointment. …Marshall Details 760-846-3915
 4. T Shirts will be sold at All Rinks
 5. If you have not sent in USA hockey rosters , send them to mary@sdice.com and tournament@sdice.com
 6. If you want to go to an off site Team get together I suggest you go to Players sports Grill in Poway . They have 40 Tv`s and pool tables for the kids and great food and drinks for adults . Call ahead to let them know how many are coming Address: 13437 Community Rd, Poway, CA 92064 Phone (858) 842-4351 LET THEM KNOW YOU ARE WITH THE HOCKEY TOURNEY.
 7. If you have Mite teams or Squirt teams , I have Pro winter Hockey jackets for the younger kids. They are $10 each or 20 jackets for $100 (regular price is $90 EACH) must email craig@sdice.com to meet to pick up jackets at SDIA.
8. If you are playing games in Carlsbad there is a great German Restaurant that is very good and cheap located 10 minutes from the Carlsbad rink 6118 Paseo Del Norte, Carlsbad, CA 92011 Tip Top Meats (best Breakfast in San Diego) .
9. Make sure your jerseys have numbers on them.