Public Skating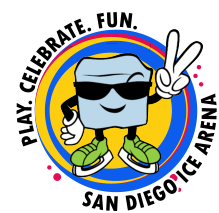 Play . Celebrate . Fun
Public Session Prices:

Admission
(all ages): $15

Group Rate: $12*
All Admissions include free skate rental.

*Must have 10 or more skaters for the group rate and a reservation.

Reservations can be made by emailing programoffice@sdice.com
or

Cancellations
3/7/20 Saturday: 1 pm – 3 pm
6/19/20 Friday: 3 pm – 5 pm &
8 pm – 10 pm
6/20/20 Saturday: All Sessions
6/21/20 Sunday: All Sessions
Weekend
(Family Fun Session)
Saturday's & Sunday's:
1 pm – 3 pm
These sessions are designed for families with children from ages 5 to 12. During theses sessions our birthday party program, group, and fundraiser programs take place with group lessons on the ice.
It's a very fun session with a live DJ and our mascot, the Ice-Qub organizing games like the Monster Parachute game, Monster Basketball, Cha-Cha slide, Limbo on Ice, and more.

Friday Night
(Teen Meltdown)
Friday Nights:
8 pm – 10 pm

This session is for young people between the ages of 12 and 19 but all ages are welcome.
We promote a safe and healthy environment for teens to have fun with their friends. During these sessions, we have disco lights and a live DJ playing all the latest popular music. Skate themes, such as fast skate make Teenage Meltdown a great place for teens to come and "chill" with friends.

Adult Night
( Adults Only Session )
Tuesday Nights:
7 pm – 8 pm

Here's a great session RESTRICTED to adults 16 years and up to come and enjoy an evening of skating while meeting new people while we play music from the 80's & 90's.
LTS Practice Sessions

Tuesday, Wednesday and Friday:
3 pm – 5 pm

Designed for skaters practicing their skating moves and for private lessons, this session is followed by skating school classes.

Traditional Skating Sessions

Monday, Tuesday, Wednesday, Thursday and Friday:
11 am – 2:00 pm

This is the classic public skating experience. A great session to practice your moves or just take a couple laps around the rink. Perfect for the recreational skater or someone just getting into skating.

(in summer these sessions become our summer camp fun sessions)

Skate Safe Program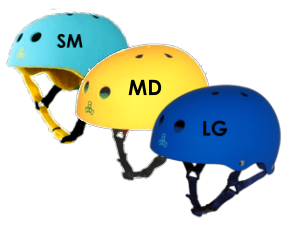 Step 1
Fitting: Pick your helmet size
1 Teal Small for children
2 Yellow Medium for youth
3 Blue Large for Adults

Step 2
Use It:
Wear a helmet while ice skating during our Public Sessions.
Step 3
Return Trust System:
Help us by hanging back the helmets where it
belongs so that other people can use.
Group Skating Reservation Form